SBI Credit Card
Here are a few factors
Welcome e-Gift Vouchers

Free Movie tickets every year
Complimentary membership to Club Vistara and Trident Privilege program
5X Reward Points on Medical Supplies, Travel Bookings, International Spends
5X Reward Points on Dining and Movie Spends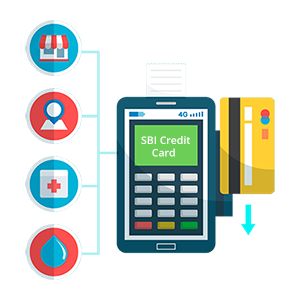 Credit Card
Upgrade the Way You Have Been Living
People have become more aware of their spending. With credit cards, the charges are already high, so why pay even more? SBI credit card benefits are adding value to banking and shopping. Be it for reward points, travel insurance, or welcome perks, the features will help you get more in your hands.
Credit Card
Your Path to Your Dream Credit Card Got Easier
Visit Our Website
For the first step, you will have to visit our website to explore the options that fit your needs.
Select and Apply
Once you shortlist the credit card you have been looking for, apply for it, and proceed with the further process.
Submit Your Document
One of the most important steps. Now you will have to submit all the required documents digitally.
Enjoy Your Credit Card!
Once your application gets approved based on your eligibility, you will be having your Credit Card in hand.
Credit Card
Features & Benefits of the Best SBI Credit Cards
SBI SimplyClick Card
On fuel purchases made at any BPCL pump, you will receive 4.25 percent back (equal to 13x Reward Points).
Fuel fee waiver of 3.25 percent + 1% for all fuel purchases up to Rs.4,000.
Every Rs.100 spent on supermarket, departmental, eating, and movie purchases earn you 5x Reward Points.
Fuel surcharges of up to Rs.100 per month are waived.
SBI BPCL Credit Card
Earn up to 50 Liters of Free fuel annually.
Earn 1 Fuel Point for every Rs. 150 spent on all other purchases.
Enjoy 1% Fuel Surcharge waiver.
Indian Oil fuel outlets can reward you with 5% of your purchases for earning fuel points.
You can earn 5% of your grocery shopping at grocery stores and fuel with fuel points.
SBI Elite Credit Card
Each year, you can earn up to 50,000 Bonus Reward Points.
Earn 10 points for every Rs.100 spent on dining, departmental shopping, and groceries.
For every Rs.100 spent on other expenses, you will receive 2 Reward Points.
A low 1.99 percent foreign currency mark-up charge.
Air India SBI Signature Credit Card
For every Rs.100 spent on Air India tickets booked through the website or mobile app, you can earn up to 30 Reward Points.
For every Rs.100 spent with this card, you will get 4 reward points.
Annual bonus Reward Points of up to 1 lakh.
1 point = 1 mile.
SBI Prime Credit Card
For every Rs.100 spent on utility bill auto payment, you will receive 20 Reward Points.
For every Rs.100 spent on movies, grocery, eating, and department store purchases, you will receive 10 Reward Points.
Annual fees are waived if you spend at least Rs.3 lakh in a year.
Complimentary Red Tier membership with Trident Privilege.
BPCL SBI Credit Card Octane
6000 Reward Points as a Welcome benefit worth INR 1500.
Get 25X Reward Points on BPCL Fuel, Lubricants & Bharat Gas spends.
Get 10X Reward Points on Departmental & Grocery, Movies & Dining Spends.
Enjoy 25 Reward Points on every Rs. 100 spent at BPCL Fuel, Lubricants & Bharat Gas (Website and app only) spends
Enjoy 10 Reward Points on every Rs. 100 spent at Dining, Departmental Stores, Grocery & Movies (Up to 7500 Reward Points per month)
Enjoy freedom from paying the 1% fuel surcharge across all BPCL petrol pumps in India, on transactions up to Rs. 4,000, exclusive of GST and other charges
Maximum fuel surcharge waiver of Rs. 100 per statement cycle per credit card account, which is equivalent to an Annual Savings of Rs.1200
Easy Documentation, Smoother Process
Required Documents for SBI Credit Card
Registered rent agreement
Current passport size photograph
Salaried income documents
Self Employed person documents
Salaried income documents
Last 3 months' salary slip

Form 16 of last 2 years

Income Tax Return if any of last 2 Years

Last 3 months' bank statement if the salary directly credited in the bank account

Certificate of employment from current employer
Self Employed person documents
Income tax returns of previous 2 years

Statement of finances with a proper balance sheet with profit and loss in that sheet

Bank statement with continuity of business

GST registration evidence of business
Card to Card Documents
The documents required for a card-to-card application vary, but common documents include:
Government Issued Photo ID

Proof of Residency

Proof of Income

Applcation Form

Authorization to run a Credit Check (if required)
Note : SBI may ask for additional documents based on the applicant's profile. The above list is for reference purposes only.
Wondering How to Apply? Here You Go!
How to Apply SBI Credit Card
The process of applying for a Credit card can be really daunting sometimes but with ReferLoan you can make the process easy and quick.
Visit the website of ReferLoan

There you can find the list of credit cards on the top.

Choose an SBI card and click on the 'Check Eligibility' button

You will be prompted with a list of questions

If you're eligible for the card, you will be redirected to the online application page.

Fill in all the required fields on the page before clicking on 'Submit'

You will then be asked to upload the documents – do the same and click on 'Submit'
Net Banking
SBI Credit Card Login for Net Banking
Enter your Customer ID, Mobile No or Card Details.

Fill in your NetBanking Password

Click on "Register Online
In Case of Any Query
SBI Card, 3rd floor, 
Block A, Apeejay House, 
15 Park Street, Kolkata
                          
10 Best SBI Credit Cards in 2023
| Card | Annual Fee/Rs. | Best Suited For |
| --- | --- | --- |
| SimplyCLICK SBI Card | 499/- | Online Shopping |
| SimplySAVE SBI Card | 499/- | Everyday Shopping |
| Yatra SBI Card | 499/- | Travel |
| FBB SBI STYLEUP Card | 499/- | Co-Branded Shopping |
| BPCL SBI Card | 499/- | Fuel |
| IRCTC SBI Platinum Card | 500/- | Co-Branded Travel |
| Air India SBI Platinum Card | 1,499/- | Travel |
| SBI Card PRIME | 2,999/- | Premium & Lifestyle |
| SBI Card ELITE | 4,999/- | Premium & Lifestyle |
| Air India SBI Signature Card | 4,999/- | Premium & Lifestyle |
Additional Fees and Charges for SBI Cards
| Type of Fees | Charges |
| --- | --- |
| The charge for credit card financing | For every single unsecured SBI Credit Card (apart from Shaurya), the interest rate is 3.5%. |
| Each month, the minimum due amount. | 5% of the sum of the outstanding balance or Rs.200 plus taxes, whatever is greater. |
| Interest Fee Period | 20-50 Day |
| Cash advance finance charge | A charge of 2.5% or Rs.500 is charged for domestic cash withdrawals. |
| Statement Retrieval | For statements older than two months, the fee is Rs.100/statement. |
| Over Limit Fee | 2.5 % |
| Domestic Card Replacement Fee | Rs. 100-250/- |
Late Payment Fee
| Outstanding Amount/Rs. | Fee |
| --- | --- |
| Up to 500/- | NIL |
| 501-1000/- | 400/- |
| 1,001-10,000/- | 750/- |
| 10,001-25,000/- | 950/- |
| 25001-50,000/- | 1,100 |
More than Rs. 50,000/- has to pay Rs. 1,300
The documents needed for applying
| | |
| --- | --- |
| Identity Proof | Aadhaar Card, PAN Card, Voter's ID Card, Driving Licence |
| Ration Card | Passport |
| Residential Proof | Aadhaar Card Rental Agreement, Passport, Ration Card, Utility Bill, Telephone Bill |
| Income-proof of Salaried Person | Employment/Appointment Letter, Current Pay Slip, Salary Certificate |
| Income Proof of Self-Employed Person | Latest ITR Files, Business Financial Statement, Audit Report/ Balance Sheet/ Loss Statement |
Online SBI Credit Card Application Procedure
You can submit an application for a credit card online by visiting the SBI's official webpage. SBI presents online applications for almost all of their credit cards.
Go to the authorised SBI web page.

Place your mouse cursor on the credit card options and press the "Help Me Find a Card" button.

Use the Simplyfier feature in order to identify the suitable card for yourself.

Review the card's advantages and specifications.

Tap the "Apply" button.

Fill in all the required fields on the page before clicking on 'Submit'

Afterwards, an SBI representative will get in touch with you to discuss the details of your request.
How Can I Track My Application Status?
In case you have requested a credit card by using the SBI web page, you are capable of monitoring the progress of the request you made.
Go to the SBI web page and log in with your username and password.

The "Track My Application" option will be found beneath the "Apply" button.

Type in your application ID or reference code to obtain more information.

To track the status of your application, enter your birth date.
FREQUENTLY ASKED QUESTIONS
Yes, SBI Card has an app called SBI Card, which is available on Android and iOS. You can register and view your credit card account details, raise card-related requests, execute transactions, and place requests for other SBI products, among other things, once you download the app.
Not at all. However, a few SBI credit cards allow you to pay off your balance with reward points. SBI Card Prime, SBI Card Elite, and SBI Simply SAVE Advantage, for example, will enable you to redeem reward points against outstanding card balances. You can redeem Rs.1 for every four reward points on these cards.
For applying for an SBI credit card, you should earn a minimum of Rs. 18,000 monthly. However, the higher the wage, the more premium the card is. The customer is always requested to show proof of income while applying for the card.
The bank may take up to 21 days to complete your SBI credit card application after you submit it, together with the relevant documents. It could take much longer if there are any missing documents or other difficulties with the application. Meanwhile, you can use SBI's 'Track Application' feature at www.sbicard.com/en/eapply.page#track-retrieve-form to track the status of your credit card application.
You can use your SBI credit card to get a cash advance. Your card allows you to withdraw a limit of Rs.15,000 every day. Cash withdrawals are limited to 80 percent of your total SBI credit limit. Accepting a cash advance will result in a monthly finance charge of up to 3.35 percent.
If you are traveling overseas, you must first go to the Main menu in the SBI credit card application, click on "services," and then click on "manage card usage" under that column, select the transaction type of the SBI credit card from Domestic to International.